Taste of Palmer Lake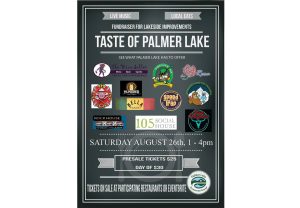 Taste of Palmer Lake, on Saturday, August 26, 2023, starting at 1:00 PM (Mountain Daylight Time).
Tickets available at local, participating restaurants and eventbrite.
Join us for an exciting culinary event!
Indulge in a delightful gastronomic experience as local restaurants, food vendors, and chefs come together to showcase their finest creations. This event is a celebration of the diverse flavors and culinary traditions of Palmer Lake, Colorado.
Located at 104 Highway 105, Palmer Lake, CO 80133, the event will be a feast for your taste buds. Explore a wide range of cuisines, from savory to sweet, and discover new flavors that will leave you craving for more.
Bring your friends and family along and enjoy a day filled with delicious food, live music, and a vibrant atmosphere. Engage with the local community, meet talented chefs, and savor the unique dishes that Palmer Lake has to offer.
Don't miss out on this incredible opportunity to immerse yourself in the culinary delights of Palmer Lake. Mark your calendars for the Taste of Palmer Lake and get ready to embark on a mouthwatering adventure!
A huge thank you to our participating restaurants – La Rosa, The Wine Seller, Bella Panini, 105 Social House, Four Daughters, Sasquatch and Yeti, O'Malley's Pub, Rock House, Speed Trap, 3 Hundred Elixirs & Smokey The Pig BBQ